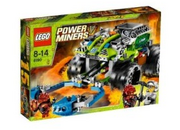 Claw Catcher is a vehicle that uses it's claw to scoop up Lavamonsters and throw them into a water tank.8190 Claw Catcher was released in January of 2010 as part of the Power Miners line (being set number 15 in the series). Included are Brains and Infernox minifigs.The set includes the new silver lava-proof body armor.
As can be seen from the picture, the Lavamonster included can be thrown into the tank in the back of the vehicle.
Lego.com Description
Edit
When lava monsters are too hot to handle, send in the Claw Catcher! A fiery Infernox is on a rampage at the Earth's core, and it's up to the Power Miners to put out the flames with the mighty Claw Catcher! In one automatic movement, it can grab a pesky lava monster in its armored clamps, hoist it high into the air, and dunk it into a super-cooled container in the back. And the rugged off-road wheels are just the thing for crossing molten lava as you roll back to base! Includes Infernox lava monster and Power Miners driver in anti-heat armor.
Includes Claw Catcher vehicle, Infernox lava monster and Power Miners driver!
2 tremendous clamping claws catch and hold Infernox!
Power Miners driver protected by anti-heat armor!
Measures over 12" (30cm) long!
259 pieces
Minifigs Included
Edit